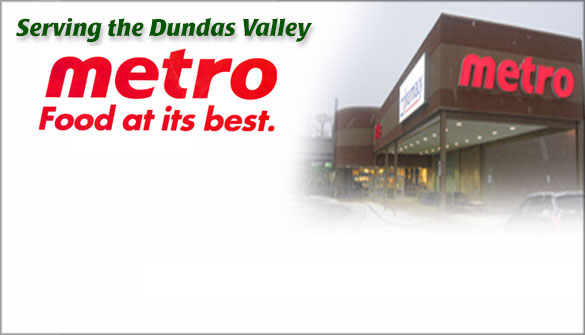 High quality, fresh grocery
products at attractive prices.
ON-LINE FLYER
AT UNIVERSITY PLAZA
GROCERIES ? FLORAL ARRANGING ? BAKERY
119 OSLER DR. DUNDAS, ONTARIO
905-628-0172
Metro Supermarket
Serving the Dundas Valley and located in Dundas Ontario at University Plaza, Metro is a full supermarket offering the complete shopping experience of groceries, pharmacy,photo finishing and floral arranging. Lots of parking and numerous shops and stores make this is a convenient place for all your shopping needs.
The other Metro in Dundas is located closer to "Downtown Dundas" on Governor's Road across from the new Spencer Creek condominium development and just behind the old City Hall.
Morden's Organic Foods
Morden's Organic Foods is located outside of downtown Dundas up in the Greensville area on Highway #5 and Brock Road. Morden's buys from local farmers and suppliers who produce their product to Morden's specifications ( e.g. suasages ) and standards.
Cumbrae's Of Dundas
Cumbrae's Of Dundas serves meats from naturally raised sources and in conveniently located on King Street in the heat of Downtown Dundas.
Emilio's Eatery
Emilo's Eatery is a full service pizza restaurant that offers a variety of dishes that change with the season. From Pizza, Subs, Chicken Wings and Salads. Emilo's Eatery ( also know as Emilo's Pizza ) is located directly across from the Old Post Office ( with the clock tower ) on King Street and is a favourite Dundas Pizza place. Free delivery with conditions.
Hanes Tiny Shop Bakery
Located on Highway 5 in Dundas Ontario, this "Fresh-Baked Daily" baker is directly opposite the Christie Conservation Area and next door to Flamborough Downs.
With over Thirty Six Pie flavours available and a wide variety of other baked goods including butter tarts, cookies and squares, visitors to this Dundas bakery will be thrilled to discover the freshness of the products and the congenial atmosphere of the store.
Dundas Farmers Market
Rain or shine, every Thursday from 3pm to 7pm ( from mid-June to the end of October )
Located on Hatt Street at Millers Lane ( just behind the Dundas Library ), The Dundas Farmers Market is great place to find fresh food produced by local farmers in the Dundas region.

A broad selection of fresh and affordable vegetables and fruits makes the Dundas Famers Market a favourite with locals. The freshly baked goods at the market provide the shopper with a wide range of tasty and unique items.Conveniently located in the heart of Downtown Dundas, the Farmers Market has on-site parking and provides easy access to the shops and stores on the main street of Dundas.